CASA ALECCI 1820 – TOURIST LEASE IN MODICA
If you're looking for accommodation in Modica, you are in the right place: Casa Alecci 1820 holiday home, with its comfortable and renovated rental rooms, is located right at the heart of Modica Alta's baroque district.
You can reach us through a charming street, scattered with houses built with traditional Modica stones.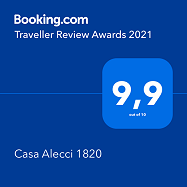 Nearby, you can visit Modica's famous churches: San Giovanni, San Giorgio, Sant'Antonio and the Church of Santa Maria Gesù.
All our rooms are equipped with air conditioning and warm water, supplied by an environmentally friendly PV system.
We have 3 rooms in total: two double rooms and one twin bed room. All rooms have an extra single sofa bed, private bathroom, mini fridge and 32" flat TV.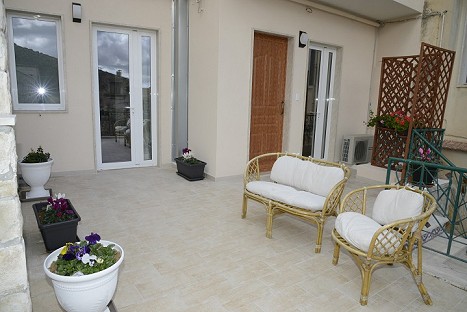 A lovely terrace is available to all of our guests. As you come in through two typical arches, there is a common space where you can find booklets and travel guides with information about surrounding tourist attractions (Modica, Ragusa Ibla, Scicli, Noto and Siracusa) and books on local history.
On the top floor of our guest house in Modica, you can enjoy the sun on a beautiful terrace with a wonderful view of Modica Alta. Here, there is also a lounge for all of our guests, with microwave, kettle and espresso machine.
Nearby, you can get a taste of the typical bakery goods of the area, like the famous "impanatigghi" and the Sicilian cannoli.
Only a few minutes away, you can check out the amazing local cuisine at the traditional trattoria "da Fabio" and "Nicastro" (reservations are necessary).
Pharmacies, supermarkets, delis, bakeries and plenty of places for a quick bite are all at walking distance.
We recommend you visit the museum named "La casa degli Avi" to travel back to ancient times, the famous "Belvedere" view of the city, and the biggest museum downtown at the Mercedari building about popular arts and traditions.
Shuttle service from and to the airport, as well as tours of Modica and surrounding areas are available upon request for an additional fee.